What Is The Significance Of Wearing St. Michael Jewelry?
Jun 22,2022 | FaithHeart Jewelry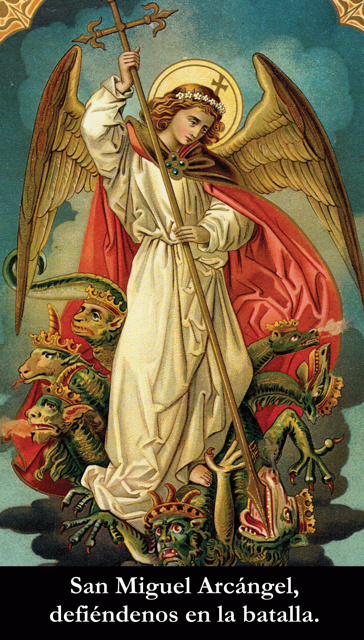 Who is St Michael?
St Michael, the defender of heaven, the supreme commander of the Angel Army, and the guardian of the Garden of Eden appointed by God, is an archangel mentioned in the Bible in Jewish, Christian, and Islamic teachings.
In Hebrew, Michael means "who is like God" (mi-who, ke-as or like, El-deity), which is traditionally interpreted as a rhetorical question: "Who is like God?" (which expects an answer in the negative) to imply that no one is like God.
In this way, Michael is reinterpreted as a symbol of humility before God. In Christian paintings and sculptures, St Michael often appears as a boy with long blond hair, holding a red cross (or a red cross-shaped sword) fighting a dragon or standing on a dragon. There are many descriptions and praises of him in the Bible. He not only has the most beautiful appearance, but also has the courage and incomparable power that mortals do not have which makes him one of the bravest angel by God's side!
St Michael in the Records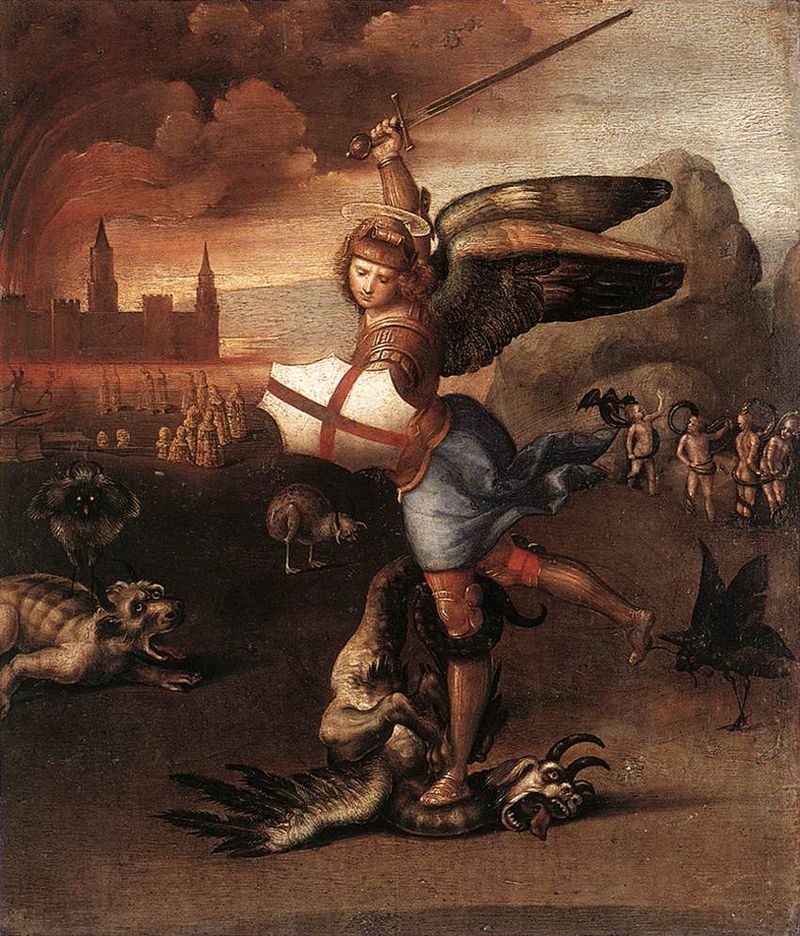 In the Book of Daniel, St Michael is described as the great prince who stands up for the children of Daniel's people to against the angel prince of the kingdom of Persia. St Michael is recognized by an angel in the book as the protector of Israel at the end of the world as well. Since then, he plays a significant role in Christianity.
In the Book of Revelation, St Michael is powerful and heroic to lead God's armies to defeat Satan's forces during the war in heaven. Satan, an evil dragon was thrown to the earth by St Michael and eventually lost the battle.
In the Epistle of Jude, St Michael is recognized as an Archangel and he is a character that is full of benevolence. During the debate about the body of Moses with the devil, instead of bringing out offensive condemnation, he says, "May the Lord rebuke you!"
In the Dead Sea Scrolls, St Michael is described as the leader and the Prince of Light, leading the army of God against the evil dark side led by Baal (means master) in the War of the Sons of Light Against the Sons of Darkness.
Christian sanctuaries of Michael appeared in the 4th century, when he was first described as a healing angel, and then over time as a protector and the director of the army of God against the battle of evil. By the 6th century devotions to Archangel Michael were widespread both in the Eastern and Western Churches. Over time, teachings on Michael began to vary among Christian denominations.
St Michael's Influence
St Michael is such a major role in Christianity that it not only influences the faithful believer but also becomes one of the symbols of protection in many countries. Despite St Michael's stories being slightly different in each religion's teaching, he is always described as the leader of the angel side against the devil, protector of the world, healer of people's souls, and guardian of the church, and its image can be seen in all places.
| | |
| --- | --- |
| West window showing Michael in armour, Anglo-Catholic Church of the Good Shepherd (Rosemont, Pennsylvania) United States | Archangel Michael at a Portuguese feast in Cabeceiras de Basto |
It's said that the British Flagship is inspired by St Michael's cross. Today many believers also wear pieces of jewelry with St Michael's image to enhance their faith and hope that they can be protected by him. Let's have a look at St Michael's Jewelry provided by Faithheart Jewelry!
St Michael Ring

Item Type: Rings
Material: 316L Stainless Steel
Shape\pattern: Round
Surface Width: 21.5mm
Style: Religious
Available in Sizes 7-12

St Michael Protect Us Ring

Ring Length: 2.5 cm

Ring Width: 2.5 cm

Ring size: 7,8,9,10,11,12 for selection

Material: 316L Stainless Steel

St Michael Pendant Necklace

Handmade item
Materials: 316L Stainless Steel
Pendant Width: 45mm
Thickness: 4mm
Chain Length: 22 inch + 2iches/Resizable

St Michael Shield Necklace

Handmade item
Materials: 316L Stainless Steel
Pendant Size: 2.05 inches * 1.12 inches (52mm * 28.5mm)
Thickness: 5.8mm
Chain Length: 22 inch + 2iches/Resizable
Net Weight: 33.4g/Piece

St Michael Adjustable cuff bracelet

Wide: 3 cm/1.18inch;

Dimension: Length Adjustable from 160mm-230mm(6.29in-9.05in),

Bracelet weight: 22g.

Perfect gifts for yourself, friends, family, lover on Christmas, Valentine's Day, Father's Day, Mother's Day, birthday, or any other special occasions.
To Conclude, St Michael the Archangel, a remarkable commander of the heavenly army, defends us in the battle against principalities and powers, against the rulers of the world of darkness and the spirit of evilness in high places. Wear the St Michael jewelry produced by FaithHeart Jewelry to enhance your faith constantly which somehow reliefs you and make you feel reliable. Remember that all things are possible with faith.
Back to FaithHeart Jewelry Blog.